FAQ
Frequently asked questions
About me
How old are you? When's your birthday?
---
I am 22 year old :) My birthday is on August 29, 1998. (I'm a Virgo :)
---
What is your height and weight?
---
My height is 5'6 (167 cm) and my weight is 95 lbs (43 kg). They haven't changed in years :)
---
Are you single and what do your partners think about your flat chest and skinny body?
---
I am currently single and I think none of my ex-partners had any problems with my appearance. Confidence is really everything girl :) I've also gone out of my way and asked my ex this qestion! I hope this video will help you understand guys' perspective better :) lots of love!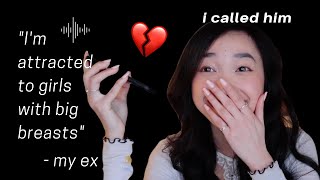 ---
Why do I create content specifically for small-chested and skinny girl? What got me started?
---
As a skinny and flat-chested girl myself, I understand your insecurity and struggles more than anyone. I have long struggled with accepting and loving my body. After many years of growing up without a role model and even came close to having a breast augmentation surgery to make my boobs bigger, I made a drastic decision in 2018 to start embracing myself for who I am and everything that my bodies offer me. I've come a long way in my self-acceptance and self-love journey. As a result, I want to create content that helps spread a positive message to all skinny and small-chested girls out there that they are not alone and that there's always support available if they need it. Also, the body positivity movement has mostly just embraced heavier sizes. I feel like there should be more representation of skinny girls in this movement, because not only do heavier folks face body shaming, we as naturally thin people, deal with a lot of skinny shaming as well in our daily life. I also understand how hard it is to feel sexy and womanly when you have small boobs and a skinny, curveless body. But I genuinely believe that all body sizes are beautiful and sexy. I'm trying my best every day to help all small-chested and skinny girls out there to overcome their insecurity and truly fall in love with their bodies.

---
---
About small boobs
At what age do boobs stop growing? Will my boobs have any chance of getting bigger in the future?
---
Your boobs are likely to stop growing once you reach 18 years old, however, they may get bigger after pregnancy and childbirth. Watch this video of mine as I dive deeper into the topic :)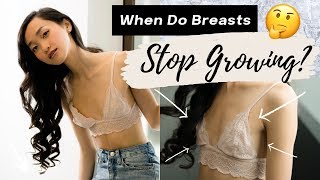 ---
Are there any proven ways to grow my breast size other than surgeries?
---
No... and I'll explain it in depth in this video. Some of the methods that I talked about are taking pills/ supplements, drinking soy milk, massage, creams and exercises.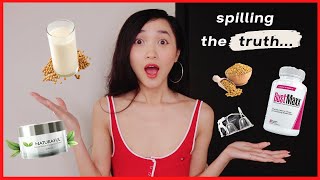 ---
Why am I flat-chested? Who do some girls just have bigger boobs than others?
---
Short answer: It's genetics. But watch this video to understand the four most important factors that lead to a difference in breast size in women (trust me, I've done my research ;)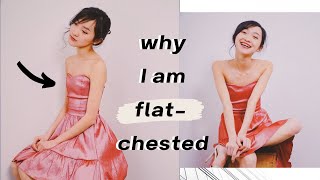 ---
How can I be confident with my small boobs? (especially in dating/ relationship/ in front of a guy I like)
---
I've got you girl <3 Watch this video of mine to learn all my confidence tips when I start dating a new guy: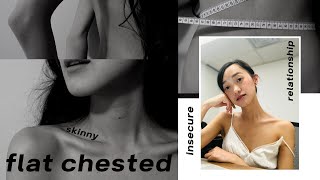 ---
Which types of clothing looks best on small boobs?
---
I hope my styling tips/ lookbook videos can help you have some new ideas for your next shopping trip: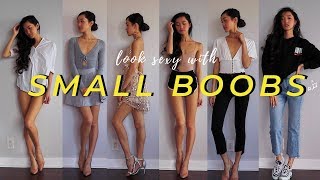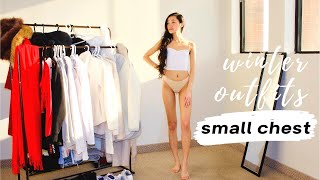 I'm also about to launch my own clothing that's made specifically for flat-chested and skinny girls just like us, so stay tuned <3 in the mean time, sign up for my newsletter to get the latest updates for the launch! Love you!
---
Should I have have surgery to make my boobs bigger? I'm so insecure...
---
I understand you babe 🥺but trust me, there are more risks going through the surgery than the benefits of it. But ultimately, of course, it's your choice and you have every right to do whatever you wish with your body. If you're considering having a boob job, watch this video first so you are aware of all the risks of breast augmentation surgeries so you can make an informed decision! Lots of love and support sending your way ❤️
---
---
About self-love
How can I start loving myself?
---
Everything takes time, but one of the first thing you need to do is to change the way you see and talk to yourself. Positve affirmations are really powerful in changing the way you perceive your body and beauty. They have played such an important role in how I've come to love and accept the wa I look. In fact, I still use them everyday. If you want to download and listen to the affirmations I listen to daily, cheeck out the links below: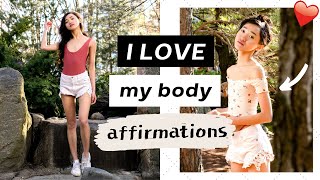 Download MY *FREE* AFFIRMATION LIST: 🦋 https://www.claradao.com/body-positive-affirmations
---
You're so confident! Have you always been like that? What's your self-love journey like?
---
No, for a looooong time I was struggling a lot with accepting myself and how I look. In fact, I hated myself and just wanted to wake up in a different body, with a diffferent, more "beautiful" face :( Throughout the years, I've made efforts to change my appearance to become more confident, and I shared my journey in depth in these two videos: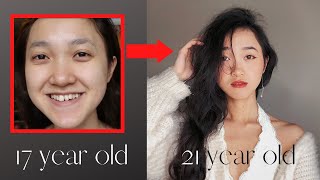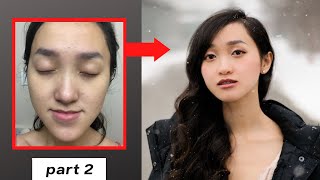 ---
---
About being skinny
How can I deal with skinny shaming? (especially from people who I care and love)
---
Skinny shaming should never be tolerated. Most of the times, people are just not aware of the fact that skinny shaming hurts and could have a lasting effect on someone. I made a video specifically on this topic and if you're dealing with skinny shaming right now, just know that you're not alone, and it's so important to value yourself and set proper boundaries with people around you when it comes to this issue.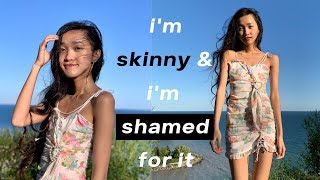 ---
How can stop hating my skinny body? I'm so frustrated I look like a skeleton :(
---
I understand how hard it is, so don't worry girl, you're not alone! I'm with you on this journey. I think this video can help you in a lot of ways. I'll share with you my 12 tips to help you embrace your skinny body. And remember that, there's always hope, things will get better, and you are loved!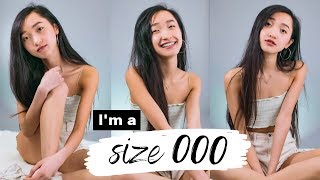 ---
I've heard of "thin privilege" - what are your thoughts on it? Is it rue that skinny people have certain advantages/ privilege compared to heavier people?
---
I know this is a controversial topic and you may not agree with my opinion, but I do think that thin privilege exists. Watch this video to see why: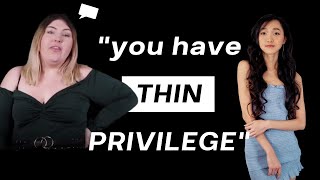 ---
---